Directed by Dr. Mehdi Valizadeh Board-Certified Periodontist (DDS, ADC Cert, MSD)
DATE: October 26 & 27, 2018
TIME: 9:00 am to 4:00 pm
LOCATION: Hyatt Regency
99 Adelaide Terrace, Perth, WA 6000, Australia
REGISTRATION FEE: Early bird – $1395.00 incl. GST
Normal – $1595.00 incl. GST (after 31 August 2018)
14 Credit hours
COURSE DESCRIPTION
This unique 2-day comprehensive course on maxillary sinus augmentation has been designed for intermediate-level implant-practicing dentists as well as post-graduate students in the fields of periodontics or oral surgery. The didactic part of the course includes 3 major evidence-based lectures. Each 1 .5 hour session will cover various aspects in contemporary sinus graft surgeries.
The course will focus on the utilization of Piezoelectric Bone Surgery (PBS) techniques in sinus lifting procedures. Delegates will also become briefly familiar with various applications of A-PRF and I-PRF in sinus lift surgeries as well as in the management of possible complications.
Hands-on training will commence utilizing egg models. Each delegate will be able to perform an open (lateral window approach) sinus surgery on an animal pig jaw model. Sinus autografting procedures will also be demonstrated by utilizing the Versah Densah Bur solution. The Densah bur compaction autografting technique will be applied to establish the clinical versatility of Osseodensification
SPEAKER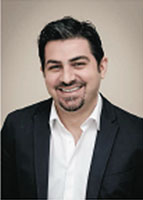 Mehdi Valizadeh, DDS, ADC Cert, MSD
Mehdi obtained his doctorate in dentistry (DDS) in 2005 and pursued a diploma in implant dentistry in 2006. In 2011, he obtained his master's degree (MSD) with a distinction as board-certified specialist periodontist. From 2011 to 2014, he worked part-time as assistant professor in the department of periodontics and implantology in the dental faculty of SBMU (Tehran-Iran), whilst running his own successful private practice. Over the years, he was actively involved tutoring dentists, collaborating with major dental bodies as senior lecturer and advisory board member and also contributing to several books as co-author.
He permanently moved to Australia in 2014 after qualifying as dentist and then specialist in periodontics. He has been actively involved in mentoring and running educational courses and lectures. Since then, despite a busy full-time private practice, limited to periodontics and implant dentistry in Perth. His main interests in his field of specialty are advanced implant surgeries, soft tissue grafts, bone grafts and periodontal plastic surgeries. Mehdi also holds an educational appointment as clinical senior lecturer at University of Western Australia (UWA) as clinical supervisor for postgraduate registrars in the discipline of periodontics and oral implantology.
T: +61 2 8076 9337 I W: www.southernimplants.com.au
Please follow the below link to register for this course.
https://form.jotform.co/InfoSA12/maxillary-sinus-bone-augmentation-d

#DentalImplants #DentalEducation #SouthernImplantsEducation #DentalIndustry #SouthernImplants #Periodontists